Orthoptic Exercises -The doctor may also prescribe eye drops, and get the patient to do specific eye exercises.
Botulinum toxin injection (Botulinum) - this is injected into a muscle on the surface the eye. The doctor may recommend this treatment if no underlying cause can be identified, and if signs and symptoms come on suddenly. The injected muscle is weakened temporarily, which often helps the eyes to align properly.
Surgey - surgery is only used when other treatments have not been effective.can restore binocular vision, as well as realign the eyes. The surgeon moves the muscle that connects to the eye to a new position - sometimes both eyes need to be operated on to get the right balance.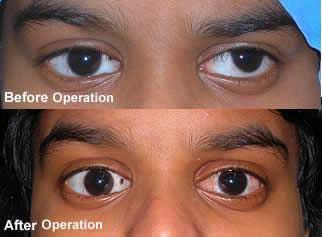 The simplicity and ease of surgery means some patients start work the next day after surgery.The results are very good with proper clinical assessment and surgery.